māmowi āsohtētān Internal Truth and Reconciliation Forum
4th Annual māmowi āsohtetan Internal Truth and Reconciliation Forum
(maah-ma-wih aah-soh-day-daan)
 This is a virtual gathering for the USask community
 Friday, March 26, 2021   (9:30  a.m. – 4:30 p.m.)
 Theories, Principles and Practices of Anti-Racism and Anti-Oppression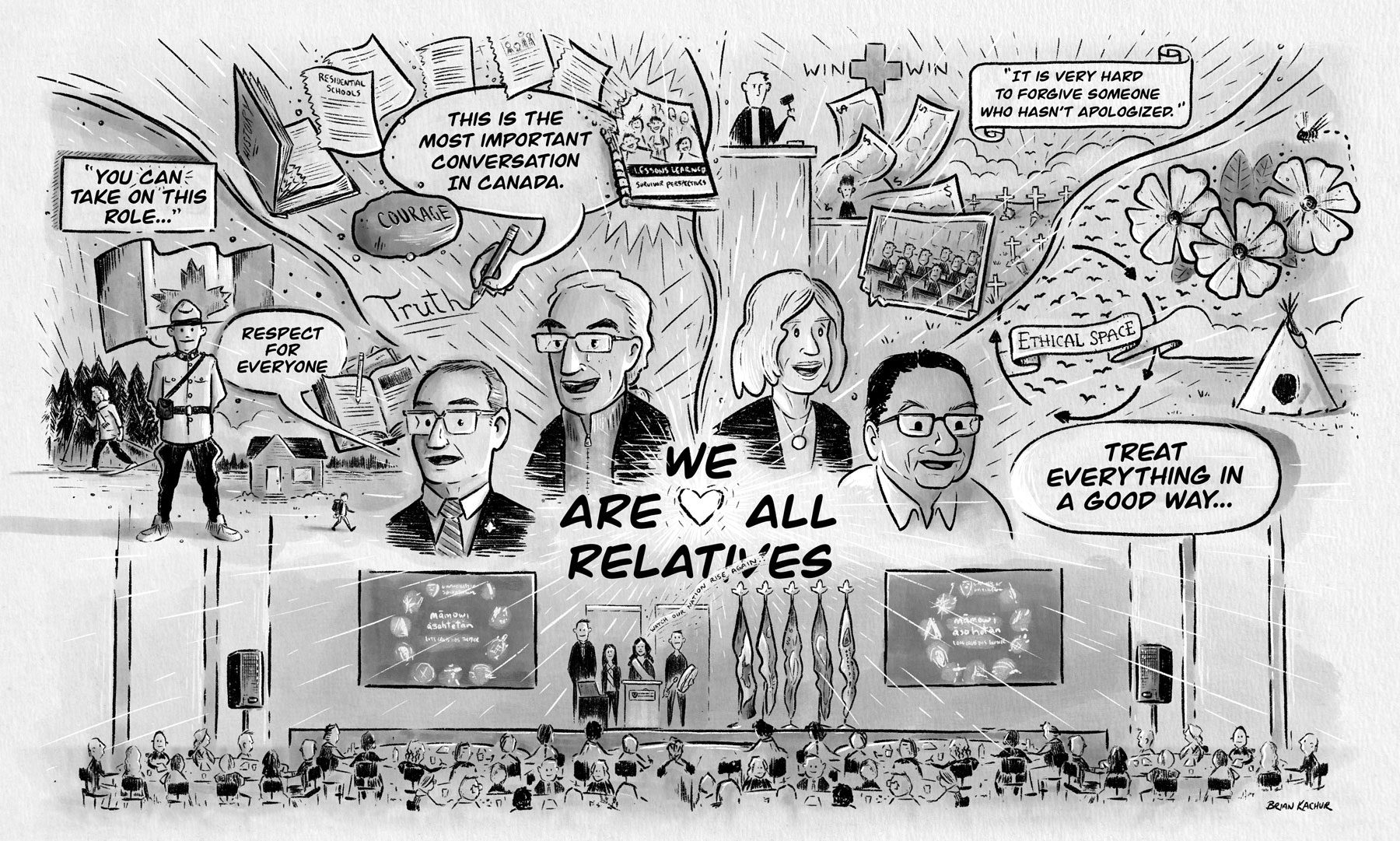 Artist: Brian Kachur
Beginning in 2017, the University started an annual reconciliation themed internal forum, aimed at bringing together faculty, staff, and students to listen, learn, and engage with local and national initiatives to help inform Indigenization and reconciliation among our campus community. This year's third annual internal truth and reconciliation forum took place on Friday, February 28, 2020, from 8:30 am - 4:30 pm, with over 250 participants in attendance at Marquis Hall.
There were four keynote speakers this year: Lieutenant Governor Russell Mirasty, former National Chief of the Assembly of First Nations Phil Fontaine, human rights lawyer Kathleen Mahoney, and Cree Professor Willie Ermine. Each keynote introduced one of the four themes of the forum: educational policy and racism, Indigenous wellness, reconciliACTION, and ethical space. After each keynote speech, dedicated time was given for roundtable conversations to unpack and strategize ways to share personal experiences in the university and contribute to individual and collective healing and learning.
Videos of the keynote speakers and photos from the forum are available below. Additional details on the forum, including a full description of the events throughout the day as well as recommendations from the conversation circles, are available in the forum report.
māmowi āsohtētān "Let's Cross This Together"
In a continued commitment to supporting Indigenization and reconciliation on campus and beyond, the University of Saskatchewan brought together students, staff, faculty and Indigenous leaders to take part in its second annual Building Reconciliation Internal Forum.
The Sept. 18 event, which gathered more than 200 people, was intended as an ideation opportunity where future and current thought-leaders shared their stories, and experiences.
The Building Reconciliation Internal Forum was launched by the U of S in 2017 as a response to the 94 calls to action of the Truth and Reconciliation Commission of Canada. In its second iteration, the goal was to take that initial dialogue a step further by inviting attendees to take a larger role in the conversation through smaller interactive, group-focused discussions.
For the majority of the day, attendees divided into four groups. Each group will form conversation circles, which had a distinct theme and a thought leader to guide the discussion. 
Circle one—Indigenous student experience
Circle two—Ally relationships: Building and sustaining 'right relations'
Circle three—Indigenous perspectives on research
Circle four—Meeting reconciliation through anti-racist, anti-oppression education
Speakers at the opening ceremonies included U of S President and Vice-Chancellor Peter Stoicheff, Vice-provost Indigenous Engagement Jacqueline Ottmann, Chief Tammy Cook-Searson of the Lac La Ronge Indian Band, and U of S Indigenous Studies Faculty Member Randy Morin.
Speakers at the closing ceremonies included three witesses who participated in the circle discussions. To end the ceremony, Director of Indian Teacher Education Program Chris Scribe introduced dancers and drummers/singers who performed two songs, and then ended the day with a round dance. 
Videos:
Note: the videos above will require Adobe Flash to view.
Faculty, staff and student leaders gathered for a full-day event on March 7 that focused on how the U of S can respond to the 94 calls to action of the Truth and Reconciliation Commission of Canada. By showcasing some of the current work taking place at the university, attendees learned high-impact practices in how to incorporate the principles of reconciliation in teaching and learning, research, enhancing the student experience and university governance and administration.
Videos:
2016 - 2017 Poster Session:
As part of the forum, there was a poster session to showcase the programs, initiatives and research projects happening at the U of S that help to build reconciliation.