The land is acknowledged as our Mother, the Earth. The University of Saskatchewan is committed to honor and support the *Indigenous peoples, Indigenous cultures, Indigenous values, and Indigenous languages that belong to the land of Treaty 6 Territory and Homeland of the Métis.
The University of Saskatchewan is committed to working towards mending colonized lands and protecting the land in a way that demonstrates honour, respect, and love. The University of Saskatchewan extends this commitment to the lands and Treaty territories (Treaties 2, 4, 5, 6, 7, 8, and 10) that constitute kisiskâciwan ([Saskatchewan], "the swift current", Cree/Saulteaux), and all Indigenous people that call kisiskâciwan home. We are born to the land and the land claims us.
An Indigenous Strategy: The 'Right Thing to Do'
"More than ever, the world needs a University in which decolonization, reconciliation and Indigenization are an animating force."
- Dr. Peter Stoicheff
President and Vice-Chancellor
Gifting the Strategy


USask's Indigenous Strategy was created by Indigenous people, and presented as a gift to all. The development of the Indigenous Strategy is rooted in the Indigenous principles of nīkānītān manācihitowinihk (Cree) and ni manachīhitoonaan (Michif)—which translates to "Let us lead with respect". By leading with respect, we ensure that the Indigenous strategy reflects the voices of Indigenous peoples.
Strategy As Metaphor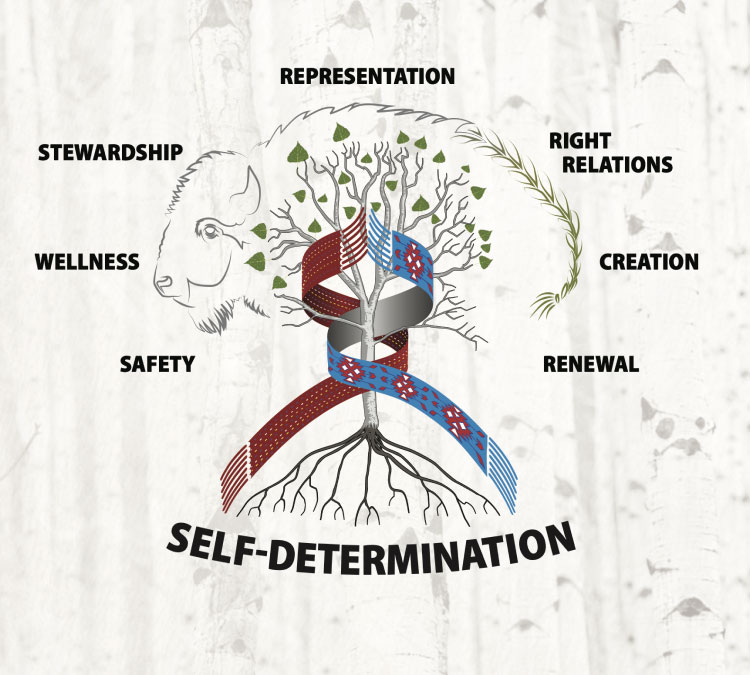 Framework
ohpahotân | oohpaahotaan is a companion document to the University Plan 2025 that will allow us to walk parallel journeys toward a common future.
Learn more about the Indigenous Strategy's framework of Commitments, Guiding Principles, Calls to Action, and Markers.
Implementing the Strategy


Alongside the Office of the Vice Provost, Indigenous Engagement, Colleges and units build their strategic and operational plans utilizing the framework of commitments, guiding principles, calls to action, and markers to improve academic, research and support services for Indigenous students, staff and faculty.